Spotlessly Clean, Dry, And Ready For Use Upholstery Cleaning In St Kilda
Particularly in a home with kids and pets or in a commercial environment, couches, living room sets, sofas, armchairs, and other soft furnishings see a lot of daily use. Although it's impossible to avoid dust, food crumbs, spills, and blemishes, there are a lot more unseen things happening to your couch than you may be aware of. Your upholstery contains dead skin cells, bodily oils, bacteria, and other impurities that can only be removed by a complete professional cleaning. Your upholstery will be spotlessly clean, dry, and ready for use in a matter of hours thanks to our team for Upholstery Cleaning in St Kilda. You can call our team anytime on 03 6121 9049 to book.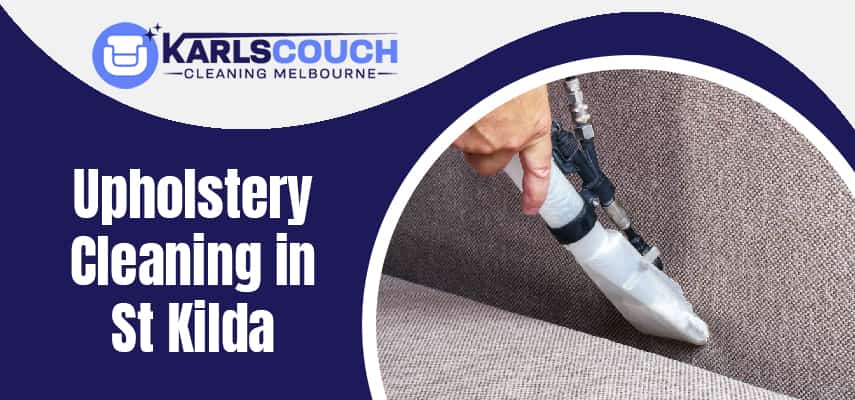 The Significance Of Expert Upholstery Cleaning
Are your couches, chairs, and other upholstered pieces dirty and covered in dust, detracting from the aesthetics of your interiors? Let our skilled and local upholstery cleaners execute a thorough cleaning to bring back the beauty of the decor in your house or workplace. All types of upholstered pieces can be cleaned by the certified cleaners offering Upholstery Cleaning St Kilda, and they do it by using several cleaning methods. Therefore, you can always count on the best outcomes if you work with professionals.
Remove stains
Reduces unpleasant odours
Prolongs the life of your furniture
Decreases allergens
Enhances the quality of indoor air
Revive the couch's colour
Clean your home of dust mites and grime
Same Day & Emergency Upholstery Cleaning Service
You probably don't have time to clean your couches and upholstery while you're expecting guests and also have to work, go shopping, or do several other duties. You want to have a stress-free time with your guests, but you also don't want to be humiliated by the condition of your upholstery. Since these situations are unavoidable, we have designed our emergency couch cleaning services so that we are ready to help our clients ASAP. You can trust our qualified staff to handle any last-minute cleaning.
Our Amazing Couch Cleaning St Kilda Services
Selecting the best upholstery cleaning in St Kilda that understands how to clean an upholstery material without damaging it is essential for successful upholstery cleaning. It will get rid of any stains and odours. After having the upholstery or your couch cleaned, you won't be able to tell how old it is. Keep on reading to find out more about our offerings and how we can help you decide whether to have your upholstery cleaned.
Couch Steam Cleaning
We offer outstanding upholstery cleaning in St Kilda by employing an efficient cleaning method. Based on the kind and state of the couch's upholstery, we clean it to ensure the material's durability. To ensure you get the best cleaning results, we thoroughly inspect the fabric before cleaning your couch.
Couch Stain Removal
The first stage in stain removal is to determine the potential causes of the stain. We also make sure to cure the stains before the rest of the fabric to stop its residue from affecting the remaining portions of the couch. To ensure you get the best cleaning results, we carefully examine the fabric before cleaning your couch.
Couch Dry Cleaning
This couch-cleaning technique makes use of a dry solution for the effective removal of stubborn stains and bacteria. This process is the safest option available. One of the typical couch cleaning techniques is cleaning dry foam.
Couch Odour & Mould Removal
The worst thing that might happen to your upholstery is mould. Not only can these fungi produce unsightly stains, but they also emit horrible odours and pose health hazards. Throughout the city, our upholstery cleaning In St Kilda provides top-notch couch mould removal and couch odour removal services. To remove mould from your priceless upholstered items, our professionals employ cutting-edge tools and procedures to keep your upholstery safe.
Couch Shampooing
Leather and other types of fabrics, as well as chemically safe goods, are used. With a special couch shampooing method, dust and embedded particles are effectively removed, and drying time is kept to a minimum.
Couch Scotchgard Protection
With just a few sprays of Upholstery Scotchgard Protection, spillage won't soak into your upholstery or armchairs, or couch and won't cause the material to become hard.
Fabric & Leather Couch Cleaning
Our couch cleaning and sofa cleaning St Kilda team provides the most trustworthy and efficient leather couch cleaning and fabric couch cleaning solutions. For the care and polishing of leather couches, we have a specialised team. Your leather upholstery will feel and look significantly better when our cleaning experts have finished their work.
Microfiber Couch Cleaning
Microfiber is a useful material. This is so because general maintenance is not particularly challenging. Cleaning is not too tough because dirt often remains quite loosely inside the upholstery. You can call us anytime for Microfiber Couch Cleaning Service in St Kilda.
Office Chair Cleaning
No matter if your upholstery only requires a quick spot cleaning or a more thorough deep cleaning, our team of qualified pros will take care of it. Furthermore, we typically have the ability to clean any harm to your couches or chairs there and then, avoid the problem of looking for a new couch.
Lounge Cleaning St Kilda
We offer lounge cleaning services to help you maintain a clean and healthy environment in your living space. Our comprehensive range of services includes stain, odour, and mould removal, as well as shampooing, sanitizing, and deodorizing to ensure your indoor air quality remains fresh and pleasant.
High-Quality Residential and Commercial Upholstery Cleaning In St Kilda
In St Kilda, we provide exceptional residential and commercial upholstery cleaning services. Our knowledgeable team ensures affordable and effective solutions for homes and organisations. Feel the difference as we revitalise your furniture, whether it has fabric or leather upholstery. Make an appointment with us right away to improve your furnishings!
Various Types of Upholsteries Which We Clean
We frequently clean a variety of upholstery made from various materials. We clean the following things the most frequently:
Throw Pillow Sofa Cleaning
White Leather Sofa Cleaning
Two Seater Upholstery Cleaning
Sectional Sofa Cleaning
Armchair Cleaning
Lounge Cleaning
Chesterfield Sofa Cleaning
Modern Upholstery Cleaning
Microsuede Sofa Cleaning
Lawson Upholstery Cleaning
Cabriole Sofa Cleaning
Tuxedo Sofa Cleaning
Camelback Sofa Cleaning
Side Skirt Couch Cleaning
Leather Sofa Cleaning
Couch Arm Cleaning
Microfiber Couch Cleaning
Ottoman Cleaning
Corner Skirt Panel Cleaning
Recliner Sofa Cleaning
Three Seater Upholstery Cleaning
Polyester Upholstery Cleaning
Our Professional Upholstery Cleaning Process
Structure and Color Test: Our experts check the upholstery fabric's structure and perform a colour fastness test.
Vacuuming: We provide a complete vacuuming service to remove allergies, pollens, and grime.
Pre-Cleaning: A pre-cleaner is sprayed on the furniture to eliminate germs, bacteria, heavy filth and grime.
Deep Cleaning: Upholstery is deep cleaned to remove dirt, leaving the couch supple and silky.
Hot Water Extraction: For a thorough clean, we use a hot water extraction machine for steaming or dry cleaning.
Stain Protection: Stain protection is applied to safeguard the fabric and prevent future stains.
Leather Upholstery Care: For leather upholstery, regular steam cleaning, sanitizing, and deodorizing maintain its brilliance.
Drying: High-quality air dryers are used to speed up the drying process.
Specialized Treatments: We offer specialized treatments and products to enhance the longevity of leather furniture.
Upholstery Cleaning Services in St Kilda and Nearby Areas
It is simple for you to get in touch with us whenever you require upholstery cleaning in St Kilda East, West, North and South. When you require same-day couch cleaning, chair cleaning, or other upholstery cleanings at your house, we can be really helpful to you.
Why Should You Hire Karls Couch Cleaning Professional Team?
Modern upholstery cleaning techniques and eco-friendly chemicals.
Certified, experienced, and licensed cleaners and industry-compliant tools.
Experts in removing stains and mould for decades.
Affordability and excellent benefits with complete customer satisfaction.
24/7 accessibility for emergency and same day services.
Thousands of happy customers with customised cleaning services specific to your requirements.
FAQs
Does Your Upholstery Cleaning Get Rid Of Pet Odours And Stains?
Of course, we do! Our upholstery cleaning in St Kilda has the best cleaners who can thoroughly clean the upholstery. We also get rid of the pet odour and stains. However, it is preferable to use our pet stain and odour removal services, which work exclusively for it. If you have children and pets at home, it is also a good idea to arrange regular upholstery cleaning services. It's because they leave a mess on it that makes it difficult to clean up with a simple vacuum.
How Frequently Should My Upholstery Be Cleaned?
As per our experts in upholstery cleaning in the St Kilda team, it is ideal to get the services every two to three years. This is only if there are fewer active residents of the home. But If you have children or pets, on the other hand, it is very necessary to have it done at least once a year. It depends on various factors like the wear and tear of the furniture and upholstery, any visible stains and the deposition of dirt on the upholstery, etc. Accordingly, the frequency of cleaning may differ.
Can You Get Rid Of The Old Coffee Stains?
Coffee stains that are old are pretty difficult to deal with. But with our upholstery cleaning in St Kilda, you can experience the best kind of results. Using the best quality cleaning agents, we can get rid of even stubborn coffee stains! Our cleaning detergents and tools are proven to be highly effective in getting rid of stains. We have special stain removal treatments offered by our team, where we use suitable methods to get rid of various types of stains including your coffee stains.
Upholstery Cleaning St Kilda
Call On 03 6121 9049 24×7 Couch Cleaning
Location: St Kilda, VIC 3182, Australia